Saturday, August 21, 2021 will be the 84th birthday of Bob de Hilster and he and his son David have chosen this day to officially launch their new book: "Principia Mathematica 2 – A Complete Toolkit for Hacking the Physical Universe". The occasion will be marked by an in-person and virtual book signing by the father/son team in their home in Boca Raton Florida.
Started in mid-2015, the authors have been busily working for over 6 years on their Particle Model of the universe which gives a physicality to light, gravity, magnetism, and electricity – something no one has attempted before in physics. In spring 2015, Bob de Hilster presented a solution to the famous wave/particle duality which his son immediately recognized, and at the suggestion of David a month later, the two set out to write a book and hack the universe using a new model based on Bob's solution for light as well as other contributions from Dr. Glenn Borchardt, Ionel Dinu, and David himself.
The result is a book that tries to give physicality to all the forces in the universe not with mathematical equations, finally answering the question: what's all this stuff made of?
The book title was suggested by Amnon Meyers, close friend of David de Hilster who helped edit the book at various stages. He insisted on the title "Principia Mathematica 2" given it is the first book of its kind that extends Newton's "Principia Mathematica" (written in 1687) to the entire physical universe. Amnon suggested that it is not important whether the Particle Model is right or wrong, it is important that it is the first of its kind and thus merits the title.
Pre-Order Your Copy Today
On August 21, 2021, Bob and David, in front of family and friends both in-person and virtual, will be signing their book at their first official book signing of "Principia Mathematica 2". For those wanting an signed copy of the book, the books must be ordered ahead of time online by going to http://book.principiamathematica2.com.
How to Attend Virtually
For those not able to attend in person, there will be two ways to attend virtually:
Live on YouTube which can be accessed by going to http://live.principciamathematica2.com
Or during 8-9 pm during the live signing by going to http://zoom.principiamathematica2.com
If you have any questions, you can contact the authors at contact@principiamathematica2.com.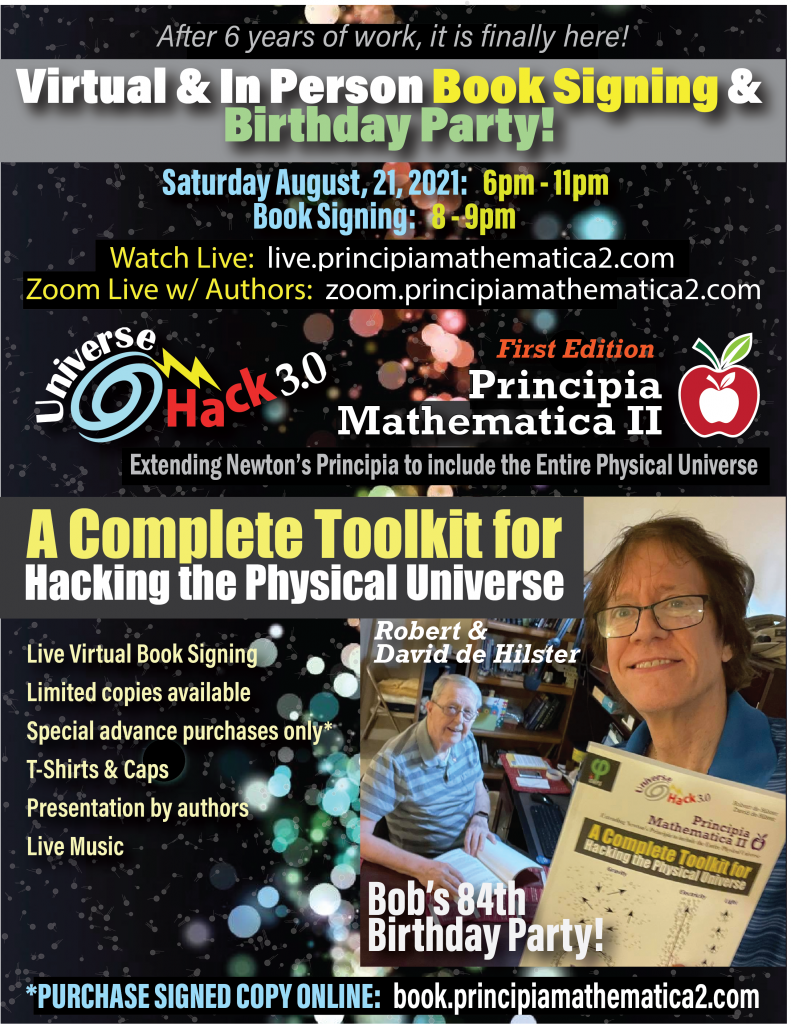 146 total views, 1 views today